I hear and read of numerous reports from people with surround sound systems, that are not performing as well as desired for stereo music playback. Some are people who sold their old stereo setup, jumped on the surround sound band wagon, and now miss the musical qualities of their previous system. Others have started out with a surround sound system, but underestimated how much music they play and now find their system lacking in this department.
In both cases, people have fallen for the marketing hype that more channels is better, 5.1, 7.1, z height channels etc. For films, games and TV this can provide an enjoyable listening experience, but most of us still listen to a lot of music, 95% of which is still in 2 channel stereo. In this article I'm going to address why a surround sound system can't compete with a dedicated stereo system and discuss some solutions to work around and improve your stereo performance.
So why do surround sound systems have such poor stereo performance compared to a stereo system?
There are several reasons:-
Digital processing; many surround AV receivers will digitize incoming signals by default, then process them, be it bass management, DSP modes, or matrixing them up to multi channel surround sound (using Dolby ProLogic for example). All of which degrades and colours the sound.
Economics; if you spend £1000 on a stereo amp, that's £500 per channel of amplification. With an AV receiver at £1000, that's split between digital processor, video processor/switching, and 5 or 7 channels of amplification. Essentially for stereo usage, you're listening to the equivalent of a £100-200 amp! No wonder it can't come close to a £1000 stereo amp.
One box mentality; with everything in a one box AV receiver, all the digital electronics crammed in can cause interference with the analogue circuitry. There simply isn't the room to separate them out. For many receivers all circuitry and amplification channels are powered using a single PSU (see photo below, #6), which can struggle at high loads and may not be able to provide the cleanest power to each component when everything is at full swing.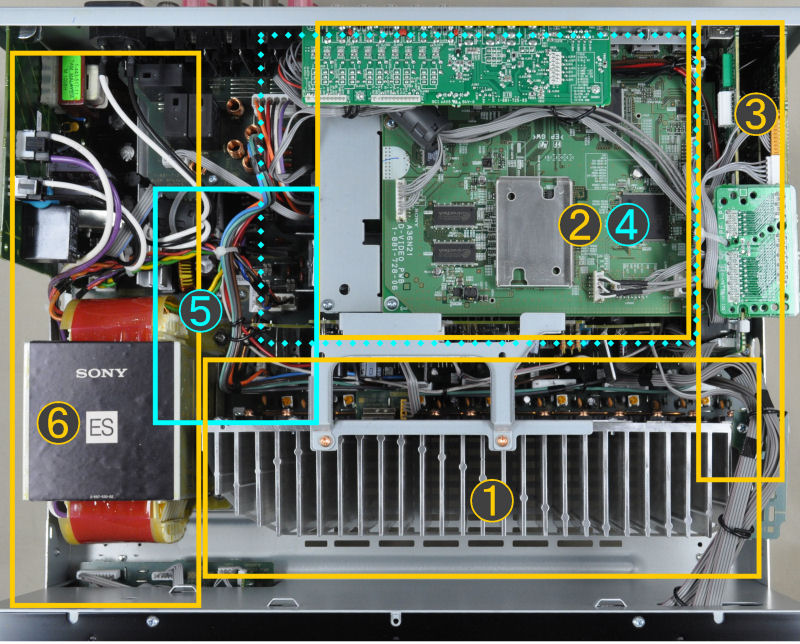 For top notch stereo playback, your front left/right speakers will be doing all the work. As such these should be the best speakers you can afford. Cheaper speakers for the rear channels will be far less noticeable than cheaper speakers at the front. Of course, for good quality surround sound, the front centre speaker should match your front left/right.
Stereo Signal Path with an AV Receiver
Before we consider options to improve stereo performance, it is beneficial to consider the signal path a stereo source has to go through when using an AV receiver.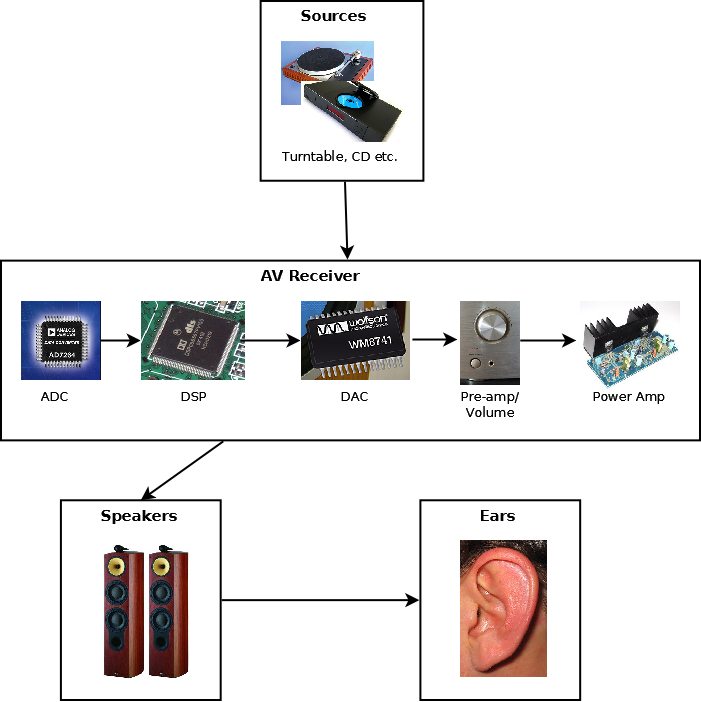 If you have sources, that can output a digital signal e.g. CD Player, Music streaming devices etc, then the first step, ADC, within the AVR is bypassed. Often these devices can output both analogue and digital signals, with the former using their own internal DAC chip. This gives you a choice on how you connect them, which will be covered later.
Analogue Bypass
Many AV receivers have the option to bypass the first few steps in this path, ADC – DSP – DAC. This is usually labelled 'Pure', 'Direct' or 'Bypass' depending on the brand. This should be the first thing to experiment with. It will give a cleaner signal with lower noise. Of course, this will mean no DSP can be performed, no matrixing stereo up to surround, no room EQ etc. This will simply send the stereo signal straight through the amp, unadulterated and with least colouration.
Some AV receivers/processors only provide true analogue bypass on the 5.1/7.1 analogue inputs, for example the popular Audiolab 8000AP processor. In which case, connecting the stereo source to the front left/right channels of this input will work fine, the surround channel inputs will be left unused. Unfortunately, this means only one source can benefit from a clean signal path through the receiver.
Turn Video Circuitry Off
Some AV receivers have the option to disable the video circuitry or turn it off completely. Other have the option to disable the graphical LCD display on the front of the case. Both of these options can slightly improve sound quality. This is because these circuits can cause interference to the analogue components, often manifesting itself as a slightly higher noise floor or slight hiss in the background. Either way, this option is definitely worth experimenting with and costs nothing.
Power Amplification Stage
The next simplest point in the signal path to improve, is the power amplification stage. Assuming you AV Receiver has pre-out connections, at least for the front left/right channels, you can connect a separate stereo power amp to drive these stereo channels. In this set-up, the AV receiver will no longer amplify the front left/right channels and delegate it to a separate power amp.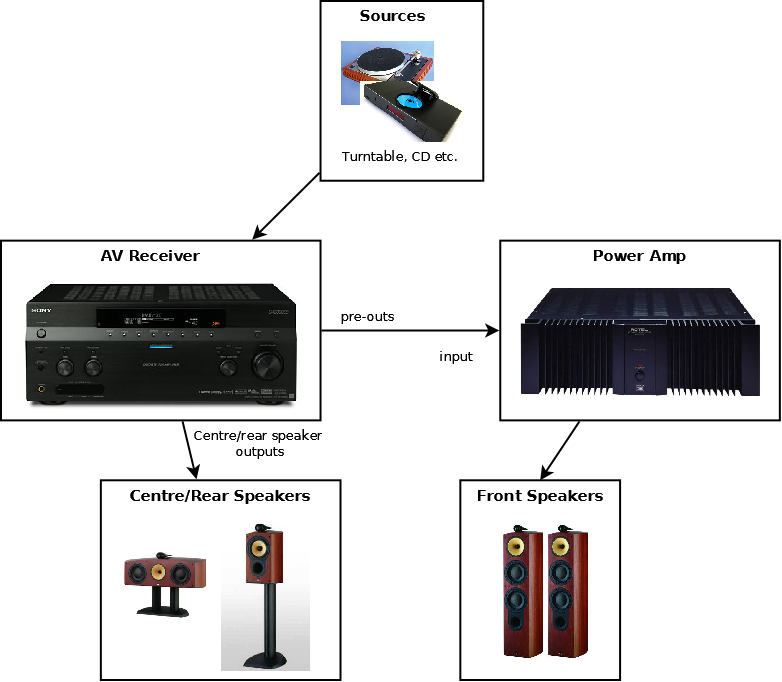 Note, after connecting the power amp, run through your AV receivers speaker level setup again. The power amp may have different gain to the power amp stage of your AV receiver, so the front left/right channels may need increasing/decreasing in volume a little.
The advantages with this are many:
No longer sharing power supply with rest of AV receiver, thus no longer compromising the performance of the front two channels, particularly during those moments of high load large transients.
Isolation from the rest of the AV receiver, thus preventing interference, be it air born radio frequency interference (RFI) or electrical from shared power supply.
Returning to our earlier equations of economics, we suggested only £100-200 or a £1000 AV receiver may actually be assigned to the front left/right analogue amplification components. Hence one need not spend a huge sum to acquire a better power amp, a £500 budget should garner a respectable performance improvement.
Using a separate power amp gives you greater choice, so one can find a preferable sound. Many newer AV receiver use Class-D amplification, which sometimes can have a harsh or bright sound. With a separate power, one could opt for a warm sounding class-A amp or even a valve amp.
A related, but alternative set-up, would be to use both a separate power amp and the power amp stage of your AV receiver. If your speakers have bi-wireable terminals, one could drive the high frequency tweeters with the AV receiver and the low frequency bass drivers with a separate power amp. This bi-amp setup presents only the tweeters or bass drivers to each amp, giving each an easier load, pushing them less and resulting in better performance.
Please note, with this setup, case must be taken to match the gain of the AV receivers power amp with the separate power amp, if one is louder than the other, the highs or bass frequencies will be exaggerated. So opt for a matching power amp from the same brand/range as the AV receiver, or choose a power amp which has user adjustable gain controls, so that it can be tuned to the same volume as the AV receiver.
When choosing a separate power amp, the obvious choice is a standard one box stereo power amp, to cover the front left/right channels. However other options are:
Classic Quad II Valve Monoblocks

A pair of monoblocks, two mono amps, one to drive left speaker, one to drive the right speaker.

A multi channel surround sound power amp, i.e. a power amp with 3 or more channels. Use this to drive the front 3 speakers or all speakers, leaving the AV receiver to just perform digital processing and pre amp duties.
Use a power amp with 4 or more channels, utilising 2 channels for front left and 2 channels for front right speakers, in a bi-amped setup (if your speakers have bi-wireable terminals). 5 channel power amps are more common than 4, so you could use the spare 5th channel for the front centre.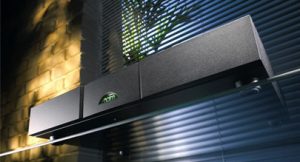 Note, using the same or similar power amp to drive the front centre channel as the front left/right, helps keep a consistent character of sound across the front, important for good surround sound performance. However matching amplifiers is less important than matching speakers at the front.
Conclusion
In summary, by adding an extra power amp box to your setup, you can simply improve the stereo performance of your surround sound system. The big advantage with this route being no change to usage, volume and source selection are still exclusively controlled via the AV receiver.
Read more in Part 2 of Improving Stereo Performance of a Surround Sound Setup.