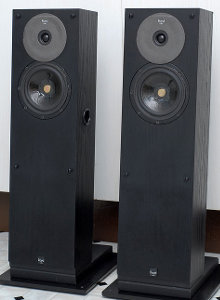 The original Royd Audio stopped producing speakers around 2002 when Joe Akroyd went into retirement. As such, the only way to get hold of original Royd speakers (and spares) is through the second-hand market. The obvious choice is eBay, followed by the various classifieds and small ads found around the internet. Adverts featuring the Royd Minstrel for sale are by far the most common, so you can be selective. Other models are rarer, do not come up often and can demand higher prices.
In 2014, Royd Audio was reborn, led by Adam Norbury and have released brand new and up to date designs inspired by Joe Akroyd's original vision. These can be purchased directly from the Royd Audio shop.
Royd Speakers on eBay
Below are Royd speakers for sale currently on eBay. Also included are Rega Ela's, as the early Ela's were very similar to the Apex sharing some parts.
Royd & Rega Ela Speakers
Clicking a link to eBay may result in a referral commission being paid if a purchase is made.
Loading...
Other Sites with Royd Loudspeakers
Below is a list of other sites worth checking out for Royd loudspeakers. Some are dedicated classified ad sites, others are general Hi-Fi discussion forums that have a classifieds section.
As with purchasing any second-hand goods, usual disclaimers apply, buyer beware! www.roydaudio.org can not be held responsible for the content and sale of goods on linked sites. It is recommended you read through our guide on buying second hand hi fi equipment to avoid getting scammed.
Spares
I'm afraid we do not have any spares for Royd speakers here at www.roydaudio.org. Spare parts can be tough to find, especially for rare models. Keep a lookout on eBay and forums, occasionally spares or other damaged speakers that could donate spares appear.