Rega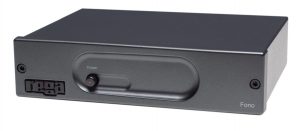 Rega have a long history of producing excellent turntables and related accessories. Their main phono stage is the Rega Fono, which launched initially in 2001 and comes in MM or MC variants, but is not switchable. The case work is a rather basic plastic box, but it's what's inside that matters. Sound quality is universally regarded as top notch; clear, no background noise, expansive sound stage and a rich forward character. Very much one of those products that shoots above its price.
The Rega Fono currently retails for £170 for the MM version, and £230 of the MC version. However, on the second hand market it go for less than £100, so keep your eyes peeled.
A new Fono MkII is also about to hit the shelves, updated and cased to match the new Brio-R range. New price will be £200 for the MM version, so don't expect many to show up cheap second hand for a while.
Rega also have a cheaper version called the Fono Mini. This is merely a cut down version, at a cheaper price point, albeit still pretty good sounding, maintaining a clean, rich and dynamic presentation. However in 2011, Rega's component supply chain was shattered by the earthquake and tsunami in Japan. Rega redesigned it as the Fono Mini A2D, with the addition of a built in Analogue to Digital Converter (ADC) with USB output. It could only manage 16bit, 44.1kHz, but at £85 new and still sounding top notch, who can moan?
Review of Rega Fono in Ultra High Fidelity magazine.
Review of Rega Mini A2D at What Hi-Fi?