Naim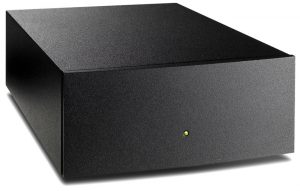 This is the first standalone phono stage Naim released, back in 2001. It is styled after their 5 series components and is a rather non descript black textured shoe box, with a tiny green light on the front. Original it cost £175, but these days it retails new for around £300. That said, on the second hand market it can go for around £120-150.
Being Naim, it features DIN style connections, so a little phaff to plug into other brands of amplifier. The older models have a single DIN socket for power in and signal out, which goes to the power supply (e.g. SNAIC). The newer models have two DIN sockets, one for signal out, the other for power in from the i-Supply. The Stageline can also be powered directly from the power out on some Naim amplifiers e.g. Nait 5i. Do check if you need a a power supply and if one is included when you buy!
The Stageline comes in three flavours (all the same price), the N for moving magnet, and S, K and E for moving coil, but with different gain attributes. The E is best suited for high output MC cartridges. Sound quality is very good, favouring a full bodied, fast and upfront presentation, very much in tune with many Naim products. They don't crop up cheap second hand often, but definitely worth considering if you do spot one.
Review of Naim Stageline N from Gramaphone magazine.
Naim Phono preamps currently on eBay:
Shop: NEWTON ABBOT HIFI

£195.00
Ends in 17d 7h