Graham Slee Phono Stages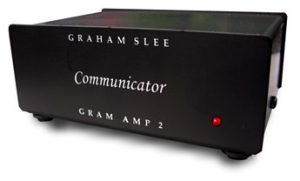 Graham Slee are a small British firm, who have been making high end phono stages since the late '70s. They have however build a couple of budget models that sometimes pop up second hand near our £100 remit and a new model that is only a little over £100.
Available new, there is the Graham Slee Gram Amp 2 Communicator, their entry level MM only phono amp, that retails for around £140.
On the second hand market, you should be able to pick the Graham Slee Gram Amp 2 for less than £100 and maybe even a Gram Amp 2 SE for not much more. Both are MM only. The former came in a basic budget plastic case, but gave an excellent performance for its price, it is the direct predecessor to the Communicator. The Gram Amp 2 SE features a quality silver metal case and uprated component throughout. This model is still available new, but not cheap at around £220. Next up the range is the Gram Amp 3 Fanfare, a MC phono stage, not too dissimilar to the Gram Amp 2 SE. New this retails for around £250, but you might get lucky second hand (one recently sold for £127!).
You may also find the cheaper Gram Amp 1, but it was quite far behind the Gram Amp 2 in performance.
Review of Graham Slee Gram Amp 1 & 2 from TNT-Audio.
Review of Graham Slee Gram Amp 2 SE from Stereo Times.
Graham Slee Phono preamps currently on eBay:

No items found.