Creek Phono Stages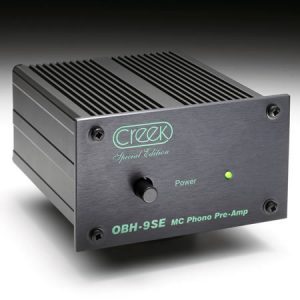 From Creek Audio, there are a handful of models that fall within budget. There is their old OBH-8 and OBH-9 models, which launched around 1995, which are now pretty common on the second hand market. The OBH-8's are MM, whilst the OBH-9 is MC only. Both are also available as uprated SE versions, which are supplied with the OBH-2 PSU, and have better noise, distortion and RIAA deviation specs. In 1997 the base models sold for £110 whilst the Special Editions for £160. Today expect to pay around £60-90 for these.
The OBH-15 and OBH-18 are later models from 2003. The former is switch-able MM/MC whilst the latter is just MM. New is £200-£250, but they do crop up second hand now and again, for a little over a £100.
All model share a characteristic neutral sound, with well defined bass, smooth midrange, but slightly bright and harsh top end.
Review of OBH-8 from SoundStage magazine.
Review of OBH-15 from What Hi-Fi magazine.
Creek Phono preamps currently on eBay: